Description
sutable

Car Combi

sutable

Van

not sutable

Bus

sutable

Car Sedan
Max height

none

Max width

none

Max weight

none
Access: Meet and Greet service operating from, Manchester Airport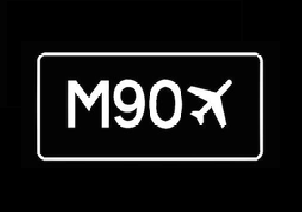 ---
M90's friendly, experienced staff will ensure that everything is as smooth and hassle free as possible.
Upon Arrival
All you have to do is to ring M90's phone line (number will be given in your booking confirmation) 30 minutes prior to arriving at Manchester Airport. One of their experienced chauffeurs will be waiting for you when you arrive at your departure terminal.
While you're away
Your car will be stored securely as " Police approved Safer Parking".
- Manchester Airport approval list
- Safer Park Mark®
- Secure compound
- Alarmed
- CCTV
- Fully Insured with Mature Drivers
On return day:
Your car will be returned to you when you have collected your luggage at Manchester Airport. No transferring to buses, no waiting around in a car park and the convenience of jumping straight into your car at your terminal at Manchester Airport car parking on your return. You will be on your way home in no time.
Cancellation Policy:
No refund as prices are No Flex Prices.
M90 Meet & Greet Airport Parking - Park Mark®
GBP
Notice: Undefined index: price in /home/clients/b3428263594e216a80dcdf100838d12b/web/cache/smarty/compiled/94d9a4344843d7e1cdb1388751407722b39b5cf1_0.file.view.htm.php on line 216

The parking does not accept new booking within 24h.